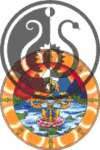 To make it easier to purchase and pay for our books directly on our website, we have added purchase buttons "Add to cart" on each individual book page:
Dear Friends of the edition khordong & Wandel Verlag,
from time to time we have been asked, especially from You abroad, how books can be ordered and paid for more easily. The last days and weeks we have been busy and added purchase buttons Add to cart on every single book page. This allows one or more distinct books to be placed in a shopping cart. On the overview pages, where you can see up to six entries, we added checkout links, Direct purchase and payment, which directly start a checkout process for this selected book only. All can be paid for by credit card, via online banking and more, or with services such as G-pay, PayPal, which are called Express checkout. These services use your addresses and payment details registered with them and enable in this way a faster checkout-process. All of these payment options are secure (Level 1 PCI-DSS compliant and a certificate that uses industry standard 256-bit encryption technology) and are technically processed through Shopify.com (in EU via the Ireland branch). The shopping cart will be visible on the right side of the website after adding a book. The checkout (payment process) will open in a new floating browser window (you may need to allow this and keep the window visible, i.e. hold it on top).
In this way we are more independent of Amazon & Co. and give you the possibility to buy all our books wherever you are. We are looking forward to hear your feedback and suggestions about this new possibility and would be pleased if you take advantage of this and purchase our books directly on our website. But if you prefer, you can order books as before by e-mail or our contact form and pay in advance, see: How to get.

We wish you a happy training and successful application. May the books lead to deeper understanding and successful practice. Please stay open and happy and with a good health. Take care …

edition khordong at Wandel Verlag, Berlin, November 2020
Please also note our updated Privace Policy at the bottom of each page.
If you have any question or comments please do not hesitate to contact us.