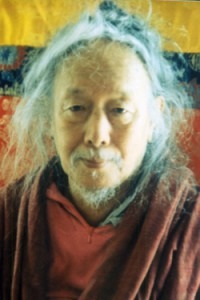 edition khordong (founded 2001) at Wandel Verlag berlin (since 2010) is a series which is dedicated for publishing Tibetan Buddhist books, mainly of the Nyingma School and was inspired by the late Chimed Ridzin Rinpoche (1922-2002), the Khordong Terchen Tulku, see the picture left, in connection with the non-profit German Khordong association. Our main authors are Dr. Martin J. Boord (Rig-'dzin rdo-rje) and James Low, both main disciples of CR Lama, as Rinpoche was also called, as well Tulku Thondup, a well known teacher and author, who also was a desciple of Chimed Rigdzin Lama.
For now our main focus is on books of the Dzogchen teachings and teachings on the meditation deity Vajrakila, as well as German translations of the Curriculum of the Nyingma school.,
We publish books in German and English language, as well as in Tibetan. Besides of the books in the Khordong tradition, we re-publish also other Tibetan Buddhist classics, which were not any more available in German language (only in German: Klassiker wieder aufgelegt).
If you have questions, suggestions or remarks about our books, our program or this website, please do not hesitate to contact us. Thank you. Sarva Mangalam.
We like to thank WordPress, the CMS, on which this site is based, the Events Manager, the Contact Form 7 PlugIn, as well WPML for multi language support and 7feet for programming of this site.
Since 2015, we have been supporting NaturFund in planting trees in order to offset the CO2 footprint that all production involves. In addition, our print shop operates climate-neutrally as a ClimatePartner.