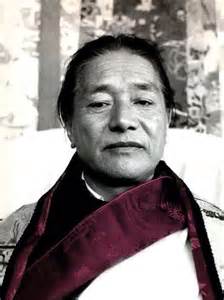 His Holiness Dudjom Rinpoche, Jikdral Yeshe Dorje, was one of the most outstanding yogins, scholars and meditation masters of recent times, who inspired not only awe in those who met him, but also devotion and deep affection. After the flight of the Tibetans into exile, it was Dudjom Rinpoche who was the first master to be accorded the title of Supreme Head of the Nyingma School of Tibetan Buddhism, the 'oldest' school introduced into Tibet in the 8th century by Guru Padmasambhava.
Dudjom Rinpoche was born in 1904, into a noble family in the south-eastern Tibetan province of Pemakö, which is one of the four 'hidden lands' of Padmasambhava. He was recognized as the incarnation of Dudjom Lingpa (1835-1904), a famous tertön or discoverer of concealed 'treasures' (terma), particularly those related to the practice of Vajrakilaya. Dudjom Lingpa had intended to visit southern Tibet to reveal the sacred land of Pemakö, but as he was unable to do so, he predicted that his successor would be born there and reveal it himself.
In his youth, Dudjom Rinpoche studied with some of the most outstanding masters of the time. He began his studies with Khenpo Aten in Pemakö, before attending some of the great monastic universities of Central Tibet—such as Mindroling, Dorje Drak and Tarjé Tingpoling—and East Tibet—such as Kathok and Dzogchen. But it was to Mindroling that he returned to perfect his understanding of the Nyingma tradition. Foremost among his many teachers were Phungong Tulku Gyurme Ngedön Wangpo, Jedrung Trinlé Jampa Jungné, Khenchen Jampal Dewe Nyima and Minling Dordzin Namdrol Gyatso.
Dudjom Rinpoche's main area of activity was in Central Tibet, where he maintained the Mindroling tradition, and especially at Pema Chöling and his other seats in the Kongpo and Powo regions of southern Tibet. He became renowned throughout Tibet for the depth of his realization and spiritual accomplishment, as well as for his unsurpassed scholarship.
Unique in having received the transmission of all the existing teachings of the immensely rich Nyingma tradition, Dudjom Rinpoche was especially renowned as a great tertön, whose termas are now widely taught and practised, and as the leading exponent of Dzogchen, the ultimate teaching within Tibetan Buddhism. Above all else, he was regarded as the living embodiment of Padmasambhava, and his representative for this time. A master of masters, he was acknowledged by the leading Tibetan teachers of his time as possessing the greatest power and blessing in communicating the nature of mind, and it was to him that they sent their students when prepared for this 'mind-direct' transmission. In fact, Dudjom Rinpoche was the root teacher of many of today's most prominent masters.
He was no less famous as an author and a meticulous scholar. His writings are celebrated for the encyclopaedic knowledge they display of all the traditional branches of Buddhist learning, including poetics, history, medicine, astrology and philosophy. A writer of inspirational poetry of compelling beauty, he had a special genius for expressing the meaning and realization of Dzogchen with a crystal-like lucidity.
Amongst the most widely read of his works are the The Nyingma School of Tibetan Buddhism, Its Fundamentals and History; which he composed soon after his arrival in India as an exile and which is now available in English translation. This monumental history of the Nyingma School is a masterpiece which presents, for the first time, a great deal of new material on the development of Buddhism in Tibet, and will remain the authoritative work on the subject.
At the invitation of His Holiness the Dalai Lama, Dudjom Rinpoche also wrote a history of Tibet. Another major part of his work was the revision, correction and editing of many ancient and modern texts, including the whole of the Canonical Teachings (kama) of the Nyingma School, a venture he began at the age of 74. His own private library contained the largest collection of precious manuscripts and books outside Tibet.
Source: Wikipedia.
In our German publication house we have re-published Rinpoches richö teachings, the mountain retreat manual: "Die Klausur auf dem Berge."