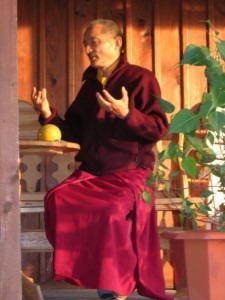 Tulku Thondup Rinpoche was born in Golok, Eastern Tibet. At the age of five, every aspect of his life changed suddenly and dramatically. He was recognized as the reincarnation of Khenpo Konchog Dronme (Khenpo Kome), a celebrated scholar and adept of the Dodrupchen Monastery, a famous learning institution of the Nyingma school of Tibetan Buddhism.
Political changes in Tibet caused him to flee to India in 1958, where he stayed for 22 years. He taught Tibetan and Tibetan literature at Lucknow University (1967-76) and Visva Bharati University (1976-80).
In 1980, Tulku Thondup came to the United States as a visiting scholar at Harvard University. Since then, he has been living in Cambridge, Massachusetts, where he engages in translation and writing on Tibetan Buddhism, particularly the Nyingma teachings, under the auspices of the Buddhayana Foundation.
Founded and managed by Michael Baldwin and Harold Talbott, the Buddhayana Foundation is a tax-exempt organization in Marion, Massachusetts, dedicated to preserving and promoting the wisdom and traditions of Tibetan Buddhism. Harold Talbott writes and researches in the field, and edits Tulku Thondup's writings.
Tulku Thondup Rinpoche has also been affiliated with Mahasiddha Nyingmapa Center of Massachusetts and Chorten Gonpa (Monastery) of Sikkim, India. He has published many original Buddhist works and translations.
Tulku Thondup Rinpoche has traveled throughout North America, Europe and many parts of Asia teaching on his books and holding workshops.
You will find more about and from him on his website: http://tulkuthondup.com/