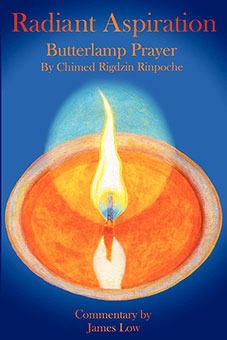 The Butterlamp Prayer by Chimed Rigdzin Rinpoche with a Commentary by James Low
Printed: 2011/ E-Book: 2021
The prayer Radiant aspiration was written by Chimed Rigdzin Rinpoche (1922-2002) while in retreat in Tso Pema in India and arose as a gesture of love and longing for his teacher, Tulku Tsultrim Zangpo (Tulku Tsulo), whom he had to leave in Tibet. While alive he offered 100,000 butterlamps each year with his disciples and this practice continues.
Radiant Aspiration offers a clear introduction to the Tibetan Buddhist understanding of the nature of existence, exploring how to free ourselves from all that limits us. It provides a translation of a beautiful prayer which employs the symbolism of the ritual offering of butterlamps, where light is seen as the basis of the nonduality of all experience. The book contains the full ritual text so that readers can engage in its practice if they so choose. There is an extensive commentary by James Low focusing on the development of wisdom and compassion making the traditional text fully relevant to the modern reader.
Available as e-book on Amazon UK, Amazon.com, Amazon.ca, Amazon.de … (as format Replica Print only for Kindle Fire or on Kindle apps on other devices incl. iPhone, iPad, Android, Mac and PC )
Also available as printed book through Simply Being.
English Radiant aspiration: the butterlamp prayer "lamp of aspiration". Translated with commentary by James Low. (Simply Being, 2011) ISBN 978-0956923905
Kindle (Format Replica Print, only available for specific Kindles or Kindle apps on other devices) Prepared 2021 through edition khordong by Wandel Verlag and available at all Amazons. ISBN: 978-3-942380-62-1, 9,99€ / 9,99£ / 12,05US$
Deutsch Lichter der Weisheit (edition khordong im Wandel Verlag, Berlin, 2014) ISBN: 978-3-942380-06-5, 21,60€, 288 Seiten, kartoniert.
This author´s books:
This books´s author: